The keys to the success of your Tool box talk...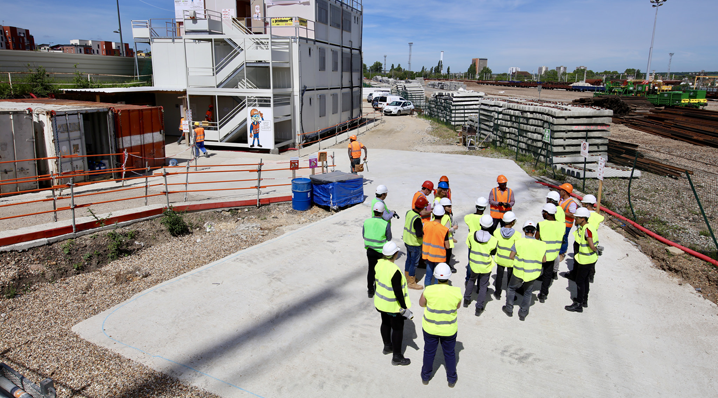 Nowadays, most companies have a workplace safety management system. Whether certified or not, these systems are intended to ensure that any employee will leave their workplace in the same health state they arrived.
The man and his safety must be the first concern of any technological adventure1

Albert Einstein
In order to be effective, what methodology to follow and what topics to cover?
The most important thing is to include such a tool in a prevention approach. It is a moment for all participants to discuss, share their opinions and listen to others'. You should not be the only one expressing yourself, but rather a facilitator. Therefore, you have to make sure everyone feels free to speak and express their thoughts. However, interventions ought to be objective, not malicious and with no hidden agenda. So, you will have to figure out a way to strike a balance between objectivity and lack of good faith by cutting short any attempt to spoil the event. This is the time to use your skills as a manager, a facilitator, a diplomat ... because you will frequently have to reconcile opposition between "good pupils" and more "disruptive" profiles.
The time you choose to do your intervention is equally important. The closer you get to your contacts, the more likely they'll be willing to interact with you. Therefore, sometimes you will have to go the extra mile to get closer to certain profiles. For example, do not hesitate to join them when hired, no matter the time ... putting up with the same weather conditions and comfort level that they are, during the day and following the same dress code if necessary. So, choose an event around a coffee hiring if possible, in a bungalow site and equipped with PPE for example. Conversely, avoid arriving at 10am, complaining about being tired and about the weather conditions in an office attire when arriving on site.
As you will have understood, you just have to show empathy, use logic, follow rules of Good Manner and demonstrate soft skills.
Your prevention speech will not be effective if your interlocutors feel they're living in a reality that's way too different from yours. However, be sure to agree with the manager of the people concerned on the ideal niche blending proximity and profitability.
It is important to schedule events with equal and different hierarchical levels. As we know, it is sometimes difficult to feel free to express oneself in front of one's hierarchy. An invisible barrier also often exists between "office" profiles and "field" profiles. It is up to you to decide how often you should organize regrouping events of similar profiles and those regrouping different profiles. The easiest way is to do a test. If during one event your teams surprise you and do not care about one another's status then perfect! Do not change anything! Otherwise, and depending on the level of discomfort noted, foster exchanges between similar profiles at first. Do not neglect exchanges between different profiles. Keep on doing that regularly and gradually, and you will demolish these invisible walls. But be patient!
You also need to make sure to allow your employees to give their feedback. They will inspire you the next topic to cover. They are also your best reference for technical and organizational details related to your topics. Theory you have access to is rarely an accurate reflection of what is really happening. Therefore, you must check with directly concerned staff before your intervention. It will be all the more relevant since you will avoid errors and off-topic. Your interlocutors will be more attentive. Having consulted them will make them feel valued. Finally, you will join the team, by an indirect means, by focusing on their daily lives. You will facilitate the discussions while increasing their quality. Consider this part as a source of personal enrichment at the same time.
How to choose the topic to cover?
The topic is very important. When identifying it, you can list all the possible themes. Then identify those relevant to your prevention approach. You need to choose themes that reflect the situations encountered by your employees in the company. To refine your organization, refer to the different indicators and isolate the themes that refer to the input data of these indicators, especially those of the indicators that you would like to improve. These themes will need to be addressed more regularly. Other themes shall be planned during an interval in order not to grow slack in you work of prevention for them and to vary the subjects. But do not disregard less relevant themes! Keep them for off-peak periods if you wish.
The targeted interlocutor also matters when choosing the topic. If he does not feel concerned, you will not reach him.
You should not leave some subjects behind only because they seem less relevant. Topics on administrative risks are often left aside, but workstation ergonomics or stress management are important topics! You need to be keen to foresee events everyone will feel they can relate to, whether their profile is administrative, technical, field ... But be careful not to compartmentalize too much your interventions because the awareness of some to the difficulties of others is also important.




Reconciling Human and Objectives
In conclusion, you are the key element for the success of your future tool box talk. Beyond your goals, be sure to take into consideration the human factor in your decisions making and your organizations. Then add the constraints and requirements that you must meet, such as the Safety Policy of your company. Be creative and innovative so as to reconcile these two aspects and you will become an outstanding facilitator. Your listening skills will be your greatest ally to succeed and to have employees' Quality discussions and to reach your objectives.
If you ever find yourself lacking inspiration, here are some examples that can be addressed in almost all companies: evacuation instructions, first responses in the event of an accident, safety rules, PPE, fire extinguishers training, The Major families of hazards (fire, electric ...), Workstation Ergonomics, Addictions ...
---
1 Technology: A coherent set of knowledge and practices in a certain technical field, based on scientific principles. (Larousse dictionary)
Find out more at:
Photo credit: County Council of Yvelines on VisualHunt / CC BY-ND