Safety at work: Checklist on smartphone or Tablet, yes it is possible!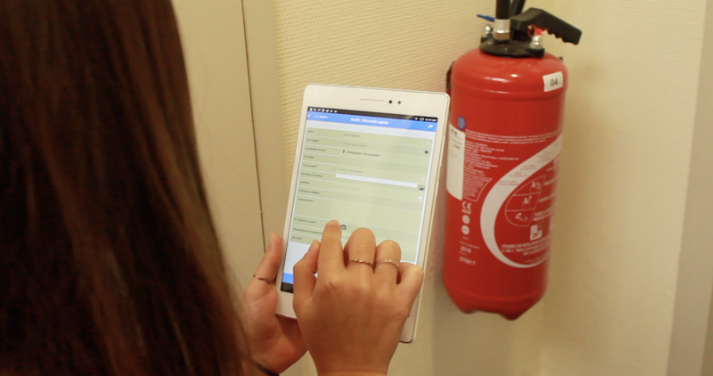 Conducting workplace safety inspections or safety rounds is essential for any proactive safety management system. Current technologies make this monitoring easier for EHSs in the field.

In recent years, the emergence of new technologies has disrupted data collection in companies. Indeed, "business" applications are increasingly available on mobile devices such as smartphones and tablets. This change is impacting on working conditions: no more double entries on the computer when you return to your desk, no more operating errors, and no more tension.
EHS services are fully involved.Their presence is essential in the field for health and safety monitoring and for example, to carry out supervision or safety rounds. If EHS facilitators or managers were previously stuck with their pencils and paper to carry out their inspections, they can now rely on digital technology. Indeed, it is now possible to digitally transpose your checklist templates, to customize them with many other advantages.
What is the EHS checklist?
A checklist is a list of items to be checked, controlled or inspected. Used in all conceivable sectors and fields (Hotel, Industry, Pharmaceuticals...). It could be daily, weekly, monthly or annual.
There is a wide range of EHS checklists: hygiene checklists, EHS rounds, equipment checklist, chemical use checklist, etc...
A checklist must be custom-designed for a given sector, equipment or position and must cover all compliance requirements.
The use of EHS checklists ensures that important steps or critical control points are not forgotten. It ensures that occupational health and safety instructions are implemented and complied with. It also serves as evidence that EHS inspections, or safety rounds have indeed been conducted.


Why a checklist on Smartphone or tablet?
Traditional paper/pencil-based methods for performing EHS inspections can be time-consuming and difficult to manage. Indeed, they generally involve re-entering data on a computer. By digitizing it, you save time on unnecessary administrative tasks and you make EHS management way simpler.
There are so many benefits to it. I will list a few of them:
More flexibility in the field: Digitized checklists allow EHS professionals to remain mobile in the field,covering a large number of sites with simplified data entry. Indeed, some fields are automatically pre-filled like geo-tracking data. The tactile data entries are designed for mobile use with Voice Dictation capabilities. Finally, the necessary visual checks are captured using the smartphone's camera.
Real-time results: Mobile usage provides real-time results.Indeed, it is easier to access and analyze the data collected and even share the results anywhere and at any time. It is also easier to access previous data and reports for comparison, corrective actions or additional checks. This improves transparency within the company and also speeds up the time needed for the implementation of corrective actions.
Safer and more optimal data storage: Paper checklists are difficult to manage and subject to physical hazards such as storage.It is difficult to retrieve a paper document on which coffee has been spilled... While with online storage, information is accessible, at any time and from any place in a few seconds.
More flexible management: the huge advantage of a dedicated solution is the ability to customize it. Indeed, each checklist is unique and requires to be adapted to the needs of the company, the business sector, or the size of company...
Failure to comply with EHS instructions may result in fines or, worse, endanger people's lives. Conducting EHS inspections and safety rounds at the workplace helps to prevent such non-compliance and prevent work-related incidents, injuries and illnesses. It is time to use technology to help EHS professionals in their prevention mission, to better monitor, act and make workplaces safer.

Go further: