Fall prevention on industrial site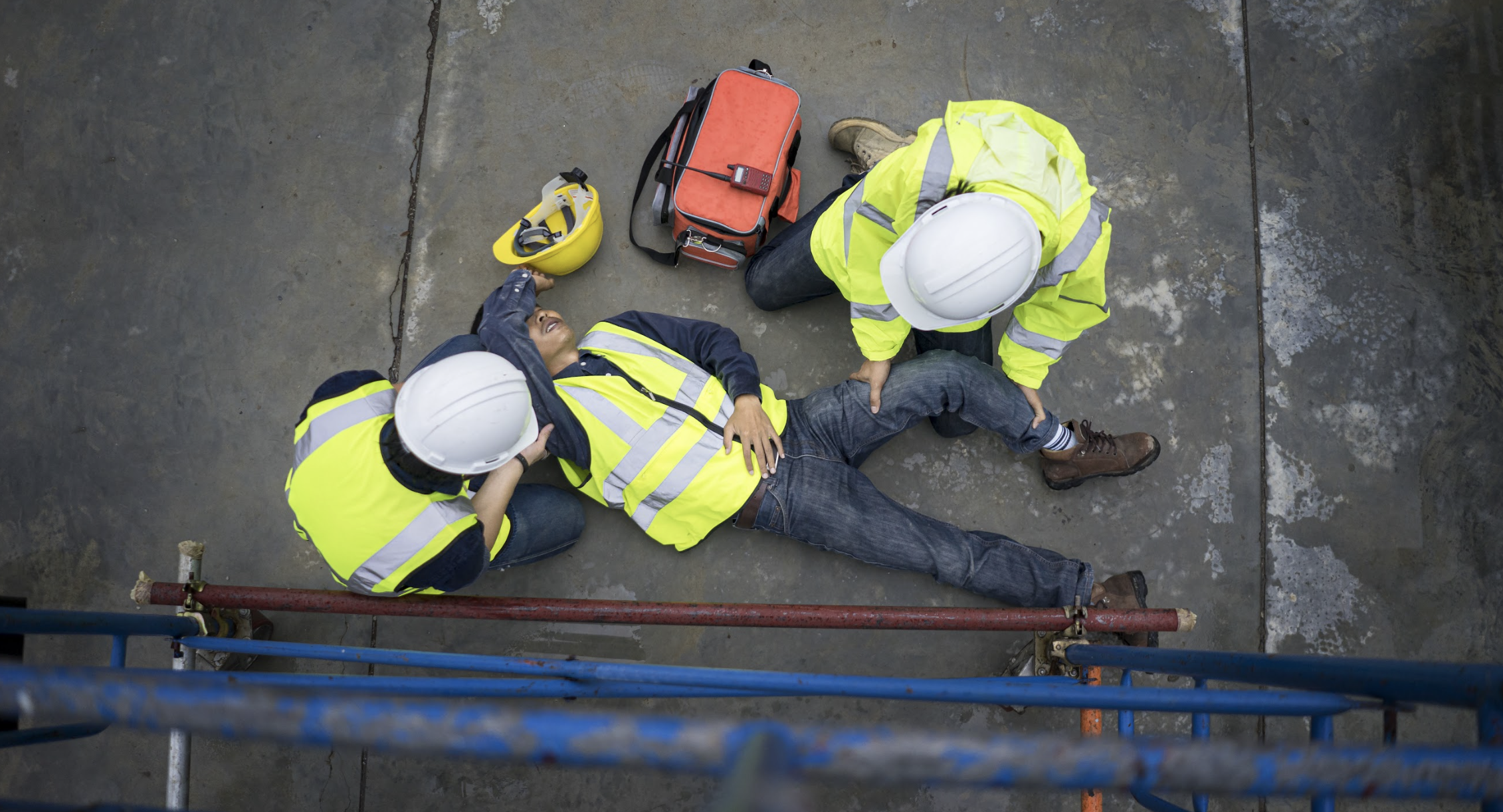 Falls are the second leading cause of death from unintentional injuries. Construction workers are most at risk from fatal falls from heights, as they are exposed at more than seven times the rate of other industries, but falls can happen anywhere, even in an office or at home.


How to effectively prevent falls on an industrial site?

In 2020, 805 workers died from falls, and 211,640 were injured enough to require days off work. Fatal injuries do not necessarily result from falling from height. In fact, 136 workers were killed in falls from the ground in 2020. Falls are 100% preventable, whether you're working from a ladder, roof, or scaffolding, it's important to plan ahead, assess the risk, and use the right equipment. Check out this article to see the standards and regulations, as well as the most effective measures to prevent falls.
Fall Hazards, what is it?
Fall hazards are present on most worksites and many workers are exposed to them on a daily basis. According to Occupational Safety and Health Administration (OSHA): "A fall hazard is anything at your worksite that could cause you to lose your balance or lose bodily support and result in a fall. Any walking or working surface can be a potential fall hazard."
Previously, fall protection for workers was a practice exclusive to occupations such as steel erectors, building window washers, and constructors. Data and experiences have proven that now this is no longer the case.
OSHA states that fall protection is the most frequently cited violation on a worksite. They even established industry-specific requirements in the 29 CFR 1926.501: Duty to Have Fall Protection, to Reduce the risk that comes with working at height.
The OSHA standard for fall protection
What is the maximum height you can work at without fall protection?
If there was a definite answer to this question that applies to all tasks and all industries it would have simplified the enforcement of regulations, unfortunately, this is not the case. OSHA's intent is to ensure worker safety in most industries since local building codes such as Cal-OSHA, even contracts, or corporate security can exceed regulatory requirements.
However, there are standards such as the Subpart M - Fall Protection from the OSHA Safety and Health Regulations for Construction that outlines the requirements and criteria for fall protection in construction workplaces. This standard, also referred to as the 6-foot rule, requires the use of fall protection when construction workers are working at heights of 6 feet or greater above a lower level. It also covers protection against falling objects, falls by tripping or falling through holes, and protection when walking and working around hazardous equipment at any height.
What are OSHA's fall regulations?
OSHA outlines the requirements for employers to provide fall protection systems in the 29 CFR 1926.501: Duty to Have Fall Protection regulations. A dedicated guideline with up-to-date fall protection information.
Here are some specific reference examples for work that requires the use of fall protection equipment at working heights as low as 1.2 to 2.4 meters (4 to 8 feet):
General industry: 1.2 meters (4 feet)
Shipyards: 1.5 meters (5 feet)
Construction: 1.8 meters (6 feet)
Longshore operations: 2.4 meters (8 feet)
This implies that when employees are exposed to heights equal to or greater than these numbers, they must use protective equipment to alleviate the risk of falling.
Even at relatively low heights, falls are always dangerous. It can cause serious injuries and work-related deaths. It is the responsibility of employers to arrange the workplace in a way that prevents employees from falling from elevated workstations and lifting platforms. According to OSHA's guidelines on fall protection in construction, employers are required to assess the workplace to determine if walking or working surfaces have the strength and structural integrity to support workers safely. After determining these work surfaces, the employer must determine if fall protection is required, using the requirements set forth in 29 CFR 1926.501. Finally, if necessary, employers have to select and provide workers with fall protection systems that comply with the criteria of 29 CFR 1926.502.
In terms of excavation work, the regulations are clear. For any employee working at the edge of an excavation of 1.8 m (6 feet) or deeper, there should be guardrail systems, fencing, or barricades when the excavations are not readily visible due to plant growth or other visual barriers.
What are the 4 steps for fall prevention?
Step 1: Fall Protection Plan
A fall protection plan is: "a safety plan for workers in unprotected elevated work areas, generally at heights above six feet".
Fall protection plans vary from company to company. OSHA provides detailed sample fall protection plan guidelines that are intended to provide a safe work environment and administer the use of fall protection measures, techniques, and equipment.
Step 2: Daily Walk-through
It is a common practice in industrial workplaces that involves employees walking around an area, building, take-off runway, etc., to inspect, identify and deal with any hazards before starting work for the day. Some companies have shifted to digital models for job safety analysis to improve the management of relevant job risks that have been identified. Today, there are software editors that develop dedicated digital Site Safety software that allows organizations to:
Reports and records quickly site hazards and incidents using convenient digitized forms accessible on tablets and smartphones for field operations;
Improves site enforcement (monitoring, verification, and approval process);
Ensures workplace safety and health compliance via digital checklists dedicated to verification visits to ensure equipment compliance;
Saves time while reducing risk.
Step 3: Fall Protection Equipment inspection
Inspection of fall protection equipment should be a mandatory and regular preventive step. The OSHA 1926.502(d) 21 on requirements and manufacturer recommendations states that:
"Personal fall arrest systems shall be inspected prior to each use for wear, damage, and other deterioration, and defective components shall be removed from service."
Step 4: Fall Prevention and Protection training
OSHA developed the Fall Prevention Training Guide to help organizations plan how to prevent injuries and deaths from falls. This whitepaper provides training for workers and includes the following tools:
Instructions for using the Toolbox Talks to train workers in fall prevention and,
A series of Toolbox Talks about various fall prevention topics
Every year, hundreds of workers still die from falls. It bears repeating that falls are 100% preventable and preventing falls can mean the difference between life and death for workers. We can prevent fatal incidents by planning to get the job done safely, providing the correct fall protection equipment, and training all workers to use the equipment safely.
Go further
> Why use the application Global Quality, HSE, multi-site and multi-activity actions plan ?
Crédit photo : Adobe Stock