ESG Strategies to Achieve the UN's Sustainable Development Goals!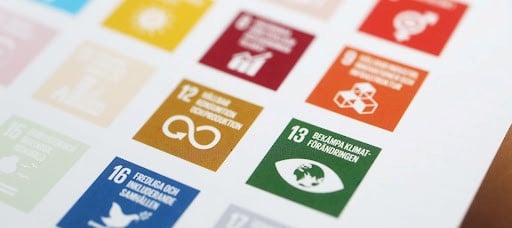 Nowadays, Environmental Social and Governance (ESG) invaded all talks in businesses and was found at the core of every new strategy in many organizations in various industries. However, some companies struggle with the new standards and obligations. In contrast, others who already relied on Sustainable Development Goals (SDGs) were ready to comply with any new regulations and standards related to CSR (Corporate Social Responsibility) and ESG.
What are the SDGs? How can CSR, ESG, and SDG objectives be achieved in your company? Let us find out the answers throughout this article.
Organizations can effectively manage their environmental and social impact and assess business risks and opportunities by prioritizing ESG factors. Moreover, the Sustainable Development Goals (SDGs) established by the United Nations are gaining recognition as a valuable framework for responsible investment, as the business landscape increasingly emphasizes ESG considerations.
What are the SDGs?
The process of creating the Sustainable Development Goals (SDGs) involved a wide range of stakeholders and consultations to ensure inclusivity and global representation.
The process began at the 2012 United Nations Conference on Sustainable Development, commonly known as Rio+20, where member states collectively agreed to establish a new set of universal goals to succeed in the expiring Millennium Development Goals (MDGs). The MDGs, which focused primarily on poverty eradication, were set to conclude in 2015.
Following Rio+20, an Open Working Group (OWG) on Sustainable Development Goals was established. The OWG's purpose was to gather input and formulate a draft of the SDGs. In 2014, the OWG presented its proposal to the United Nations General Assembly as a foundation for subsequent negotiations. Member states engaged in intergovernmental discussions to refine and finalize the specific goals and targets encompassed within the SDGs.
In September 2015, all 193 member states of the United Nations adopted the SDGs as part of their 2030 Agenda for Sustainable Development. Comprising 17 global goals and 169 associated targets, the SDGs serve as a framework to tackle urgent social, economic, and environmental challenges experienced by nations worldwide.
The SDGs cover a wide range of interconnected issues, including poverty, hunger, health, education, gender equality, clean water and sanitation, affordable and clean energy, decent work and economic growth, industry innovation and infrastructure, reduced inequalities, sustainable cities and communities, responsible consumption and production, climate action, life below water, life on land, peace, justice, and strong institutions, and partnerships for the goals.
The SDGs encompass distinct targets and indicators, offering a roadmap for countries, organizations, and individuals to pursue holistic sustainable development. By serving as a comprehensive framework, the SDGs facilitate global endeavors to eradicate poverty, foster prosperity, safeguard the environment, and promote peace and justice for everyone.
ESG & SDG: How to Adopt a Sustainable Development Strategy in Your Company?
How do ESG & SDGs Work in a Company?
ESG and SDG are two frameworks that relate to sustainable development and responsible business practices. ESG factors encompass a wide range of considerations, such as carbon emissions, resource usage, employee well-being, diversity and inclusion, and more. Therefore, ESG practices and initiatives contribute to the achievement of specific SDGs. Additionally, SDGs can serve as a useful framework for companies to assess their impact and set strategic goals. Organizations can align their ESG initiatives with specific SDGs, measure progress, and report their contributions transparently.
Adopting a Sustainable Development Strategy
Nowadays, companies are more and more bound to adopt new strategies empowering their engagement towards SDGs and sustainability. Some companies are starting to adopt this approach, but they find themselves lost in the maze of new standards (IFRS S1 & S2, ESRS, etc.), regulations, and directives (CSRD in Europe). Therefore it is necessary to start progressively by following the examples of others that have successfully implemented sustainable development strategies based on SDGs and ESG metrics.
To help companies adopt the right strategies, there are standards related to environmental management, such as ISO 14001 standard. It can provide many criteria and guidelines to adopt the right processes to reduce the environmental impact of business operations. In addition, ISO 26000 related to CSR, provides guidelines to start adopting new CSR strategies in organizations. ISO 26000 is important, especially for companies that have just embarked on the sustainable development journey.
Therefore, choosing the right metrics to adopt a new ESG strategy is important. The ESG factors will automatically align with the SDGs and by reporting on your strategy, measurements, and monitoring you will be able to contribute to the SDG aim 2030. In addition, SDGs can serve as a guide for companies in setting specific sustainability goals. By mapping their ESG priorities and actions to the relevant SDGs, companies can identify areas where they can have a significant impact and contribute to global sustainable development objectives. This goal-setting process helps companies focus efforts and measure progress towards specific SDGs.
However, choosing the right strategy, metrics, and criteria will greatly depend on the industry and business operations of your company. You must align your strategy with your products and services, the production processes, all stakeholders, suppliers, clients, and premises. They are all factors that will impact the environment and community surrounding your organization. Therefore, you can choose for each topic a strategy and an action plan to implement sustainable actions concerning your ESG strategy and related SDGs.
Here are some examples that relate ESG and SDGs:
Carbon Footprint: When a company focuses its efforts to reduce carbon emissions and promote renewable energy, this strategy aligns with SDG 7 (Affordable and Clean Energy) and SDG 13 (Climate Action).
Gender Diversity: Organizations that prioritize gender diversity and promote women's representation in leadership positions align with SDG 5 - Gender Equality. By fostering equal opportunities and empowering women, these companies contribute to creating a more inclusive and equitable society.
Water Management and Conservation: Businesses that implement sustainable water management practices, reduce water consumption, and promote water conservation initiatives align with SDG 6 - Clean Water and Sanitation. Their efforts help ensure access to clean water and contribute to the overall preservation of water resources.
Ethical Supply Chain Practices: Companies that establish and enforce ethical supply chain practices, ensuring fair labor conditions, responsible sourcing, and transparency, align with SDG 8 - Decent Work and Economic Growth. These practices promote sustainable economic development, decent working conditions, and fair trade.
Waste Management (Reduction and Recycling): Organizations that implement waste reduction strategies, prioritize recycling, and promote circular economy principles align with SDG 12 - Responsible Consumption and Production. By reducing waste generation and promoting sustainable production methods, they contribute to a more sustainable and resource-efficient society.
These are some examples of how ESG factors can align with SDGs and contribute to a positive impact by addressing environmental, social, and governance challenges while supporting the achievement of sustainable development goals.
Finally, to help your company rigorously cover all the adopted ESG criteria and make sure that you are aligned with the SDGs, you can create your customized checklist to cover all your actions. This checklist can be used to ensure your company's transparency and its commitment to sustainability.
Digital Technology a New Lever for Sustainable Development Strategy
Companies adopting new sustainable strategies and transforming their whole processes to meet and comply with the SDG objectives and ESG factors will face another challenge: "Collecting and Pooling of data".
This challenge can be addressed thanks to digital technologies. They can be an important lever for implementing new sustainable development strategies.
A digital tool will allow the centralization and pooling of information from various departments, operation teams, and especially in a multisite context. This will facilitate data monitoring that can be done via dynamic dashboards that are fed with real-time data. Therefore, companies can successfully and closely monitor their actions regarding the selected SDG goals and ESG factors. This can be applied to environmental impact monitoring (waste management, water management, Greenhouse Gases emissions, Carbon footprint reduction, energy efficiency, etc.) and social impact (incident reporting and accident rates, employees' well-being, investment in the community, etc.).
Moreover, digital technology can provide self-assessment modules that are essential tools for companies wishing to evaluate their performance in terms of social and environmental responsibility. Based on frameworks such as ISO 26000 or ISO 14001, these modules enable a company to self-assess and meet the specific criteria established by these frameworks. Through a dedicated tool, the company can associate evidence with each criterion, thereby facilitating the collection and presentation of the necessary evaluation data. This methodical and documented approach provides companies with a clear understanding of their strengths and weaknesses in terms of sustainability, allowing them to take targeted corrective actions to improve their practices.
Finally, sustainability reporting and graphical representation of all necessary data for disclosure are made easy and less time-consuming, thanks to Power BI. The report is automatically issued and sent to all stakeholders and made available for public consultation.
Companies are facing new challenges to adopt sustainable activities and operations. Embarking the journey with an ESG strategy will allow companies to achieve the SDGs set by the UN and the 2030 aim. Therefore, transforming companies' activities and operations to become sustainable is crucial nowadays, as this approach became essential for customer satisfaction. In a new age where ESG has become the essence of every business strategy, relying on a digital tool is one step further in a paperless environment and it doesn't stop there.
Successfully implement your sustainable development strategy with