Electronic Permit to Work (E-PTW) for better Occupational Safety and Health outcomes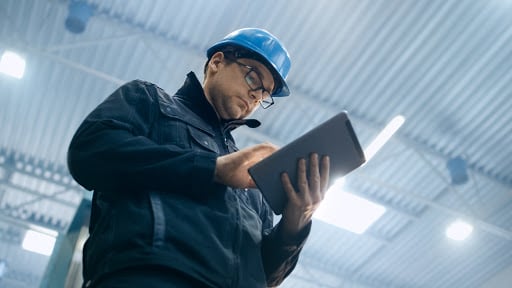 Permit to Work (PTW) systems are an integral part of a safe work system and can help manage a wide range of work activities. Process-related hazards that could cost lives, cause injuries, and time-consuming facility damages not only affect companies' production performance but also their finances. To prevent such major industrial incidents, many countries around the world have implemented Process Safety Management (PSM).
What is the role of the work permit in the management of site safety? How has it evolved with digitalization?
In 2019, five people were imprisoned for falsifying a permit-to-work (PTW) after a construction site accident left one worker dead in Singapore in 2016. Following the investigation of the Ministry of Manpower (MOM) on the fatal accident, the company hired a licensed excavator operator to dig the area where a 3.6m deep tank was going to be built. However, a Permit to Work (PTW) had to be issued before any excavation work deeper than 1.5m could begin. During the event, the work was undertaken without a PTW. MOM investigations revealed that several people had signed a backdated permit form a day after the fatal crash.
In addition to the imprisonment of those involved, the companies and the subcontractor were also sentenced to heavy fines.
What is a permit to work?
Permit to Work is a systematic technical measurement process used to authorize controlled work such as maintenance, inspection, modification, and non-routine high-risk activities in potentially hazardous conditions to prevent a major accident.
In other words, the PTW ensures that non-routine dangerous work takes place safely. It describes the work that has to be done, the identified hazards, the measures to be taken, and the personal protective equipment that must be used. The permit might contain details of all the isolation equipment that needs to be in place depending on the nature of the work and the site.
The permit approval process starts from the moment a work order is issued, the permit is prepared, approved, closed off, and recorded at the end of the work. The people responsible for the work have to capture the relevant information (Photos, measures, remarque…) and sign.
The term Permit to Work might slightly vary from one industry to another (for the mining industry, it is called permit to work, while in the Oil and Gas industry, it is Work Clearance), however, the principle is usually the same.
The Singapore Ministry Of Manpower (MOM) regulation
There are two legislations covering workplace safety and health in Singapore, let's explore these categories:
The Work Injury Compensation Act (WICA)
The Work Injury Compensation Act (WICA) allows employees to claim work-related injuries or illnesses without having to file a civil suit under common law. In other words, it is an affordable and faster alternative to common law for settling compensation claims.
Workers can claim under WICA if they have been injured in a workplace accident or have suffered a work-related illness. Additionally, workers do not need to hire an attorney to file a WICA claim.
Under new WICA provisions that came into effect on 1 September 2020, employers must report all work-related injuries resulting in medical leave or transfer to light duties. Previously, only injuries resulting in four or more days of medical leave had to be reported. This change allows for more comprehensive injury reporting.
The Workplace Safety and Health (WSH) Act
The WSH Act is the key legislation affecting the principles of the new occupational safety and health framework. In the incident involving the imprisonment of the 5 people mentioned above, including a project manager and four others, the Workplace Safety and Health (WSH) Act was the legislation applied after the MOM investigation revealed the falsification of a work permit.
The project manager, who was in charge of all matters relating to the site, and the site manager, who was responsible for all matters relating to safety, work progress, and quality, were respectively heavily sanctioned.
Workplace Safety performance in Singapore
In 2021, the number of fatalities at work fell from 39 in 2019 to 37 in 2021, despite a wave of fatal accidents in February 2021 which left 11 workers dead. Overall, this translates to a similar occupational fatality rate of 1.1 per 100,000 workers over the two years. This puts Singapore on track to meet its 2028 Workplace Safety and Health (WSH) target of achieving an occupational fatality rate of less than 1.0 per 100,000 workers. It is important to note that only four countries of the Organization for Economic Co-operation and Development (OECD) have achieved this objective.
Let's explore the details of the country performance:
Fatal injury by Industry category
The industries with the highest injury rates are construction, manufacturing, transportation and warehousing. In 2021, the construction sector accounted for the most occupational fatalities in Singapore with 13 cases, leading to a fatality rate that rose from 2.9 in 2019 to 3.3 per 100,000 workers in 2021. Transport and warehousing are the second industry with the most fatalities with 9 cases, recording a fatality rate of 3.6 per 100,000 workers in 2021, compared to 3.1 in 2019. These two industries collectively accounted for 60% of all fatalities in work in Singapore.
In terms of serious injuries, manufacturing and construction jointly accounted for 44% in 2021.
Main causes of workplace fatalities
The leading causes of workplace fatalities in Singapore are road accidents. There were 11 fatal accidents recorded in 2021 and six of them were work-related traffic accidents (WRTAs). The negligence of other road users who were not at work during the incidents was the cause of three of the WRTAs. It is important to mention that there were no similar accidents in 2019.
Main causes of occupational Injuries
The main causes of non-fatal injuries in Singapore are slips, trips, and falls (SFT). We can observe a slight decrease in the number of STF-related serious injuries over the last two years, from 216 in 2019, compared to 208 in 2021. Following the new WICA provisions of 2020, 5,785 minor STF-related injuries were reported in 2021. However, if adjusted to a 2019 basis, STF-related minor injuries fell to 3,565 in 2021 from 3,694 in 2019.
Another common cause of workplace injuries was machinery-related incidents, accounting for 63 serious injuries in 2021, compared to 82 in 2019.
E-Permit To Work (E-PTW)
An E-PTW or Electronic Work Permit is a work authorization software and system that can synchronize operational, maintenance, scheduled and unscheduled work across organizations, provide control over contractors and reduce risk. It is an accurate compliance tool that increases operational efficiency, productivity and addresses the field of maintenance and works.
E-PTW main features
This technology helps organizations work efficiently and accurately, allowing them to stay ahead of the curve when it comes to workplace safety and performance. Unlike the paper-based work authorization process, which typically uses paper printouts that must be manually signed off by senior management for approval. A process that is extremely heavy and time-consuming.
Permit to work software personalizes workflow and validates steps to improve safe work practices. The system provides total control over the operation and enables a safe workplace to prevent the occurrence of tampering and backdating practices.
Electronic work permit software is designed and developed in a way to reduce paperwork and turn complex and heavy processes into simple electronic processes. This software is customized to fit the organization's existing work models to avoid major changes in the practice.
Some of the main features of work permit software are:
Custom streamlined permit creation
Online Approval Mechanism
Checklist
User rights access and control
Warning and alerts
Real-time data and statistics review
Offline mode
Camera, voice, GPS, and e-signature enabled
Accessible reports and records anytime and anywhere
Fully integrated e-Permit to Work System
The advantages of an E-PTW
E-PTW has helped streamline organizations' work permit (PTW) management, but let's explore why this tool can do more than that. Here are the most common benefits of an electronic work permit:
Improves site enforcement and increases accountability through a rigorous approval process.
Traceability thanks to the digital approvals and authentication technology
Ensures all stakeholders have visibility into the status of the PTW: real-time visibility into the PTW application across multiple sites, remote access and control
Reduce the time required for the submission and approval process
Reduce administration costs: easy data entry and reporting
Facilitate the coordination of

SIMOPS

(Simultaneous Operation): projects involving several teams operating in the same areas.
Enforce standards compliance: compare the HSE performance of these sites with the data captured.
Monitor HSE performance with analytics.
Store, access, and retrieve PTW records easily and logically when investigations or audits are performed.
Singapore has made significant progress in terms of workplace safety and health (WSH) outcomes. PTW is an essential part of an effective safety and health management system, as it helps control hazardous work activities to ensure safe performance on site. The PTW system is widely used in various industries including the Oil, Petrochemical, Energy, and Chemical (OPEC) Cluster in Singapore. The introduction of an E-PTW, especially in these industries, is a major step toward the country's 2028 Occupational Safety and Health (WSH) target of achieving a lower occupational fatality rate. to 1.0 per 100,000 workers.
Go further
> Available on BueKanGo's Marketplace e Permit to Work (e-PTW)