Choosing the Right KPIs for your ESG Strategy!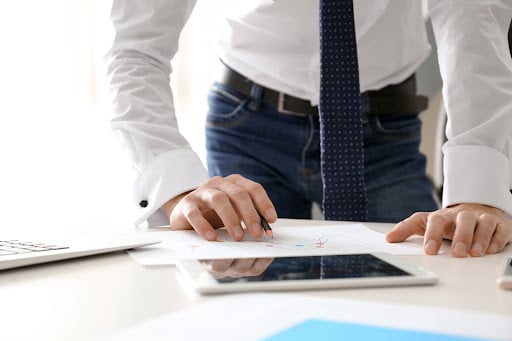 Adopting an ESG strategy is not an easy task. However, the new emerging standards will help set the pace for companies and provide important guidelines for choosing the best criteria adopted for their businesses. The adopted ESG strategy must be monitored internally to ensure compliance with the requirements of the standards. Key performance indicators (KPIs) will provide important insights into the advancement and monitoring of the strategy, in addition, to producing important figures for the ESG report.
Therefore, you must wonder: How to choose the best indicators? How to edit the ESG report?
No matter the situation, objectives or processes, the implementation of KPIs and/or risk indicators (KRIs) is essential. For Quality, EHS and ESG, these indicators represent a universal continuous improvement lever. Therefore, it is important to know how to choose the most appropriate indicators, analyse them and make the best use of them.
How to choose the best appropriate indicators?
Strategic objectives, which are closely linked to the policy and general strategy of an organisation, are managed and monitored via KPIs and KRIs. Thus, these indicators will allow the governance body to verify the effectiveness, efficiency, relevance and reliability of operations. This monitoring and management will greatly help with raising awareness of certain issues and fast decision-making. Furthermore, it is important to choose the right and most appropriate indicators to avoid overloading the dashboards.
The best and most appropriate strategic indicator should be:
Linked to a strategic objective;
Easily measurable and achievable (must meet realistic objectives);
Implemented for a dedicated operation/activity;
Assigned to one or more pilots for analysis and follow-up;
Defined in clear terms, precise and timely;
Regularly monitored;
Comparable with other organisations.
Members of the directory board decide on whether or not to adopt an indicator. Once all the indicators have been chosen, the associated dashboards are shaped.
Which KPIs to choose to keep track of your ESG strategy?
To help companies and organisations adopt and monitor the right KPIs, there are numerous solutions, from standards and regulations to existing online platforms and ESG scoring bodies. Online platforms or ESG scoring bodies provide well-defined indicators that will help companies with their self-assessment, improve performance and internal scoring.
The KPIs are always about the 3 pillars of ESG: Environmental, Social and Governance. Depending on the platforms there are various types of indicators for each pillar.
Here are some examples of some indicators that you might find:
Environmental indicators:
CO2 balance sheet;
Monitoring of waste management;
Water management;
And many more.
Environmental indicators will hence allow the assessment of, for example, the impact of operations on biodiversity, GHG emissions, and circular economy.
Social indicators:
Partnerships with associations and engagement in society;
The existence of a profit-sharing agreement;
Employment equality and gender diversity:
And many more.
Equal opportunities, respect for human rights and corporate values ​​are metrics and indicators at the centre of the Social pillar.
Governance indicators:
Recognition by third parties via certifications or other related to ESG and/or CSR;
The purpose;
The corporate mission;
And others.
The interest and commitment of stakeholders represent a strategic lever.
Moreover, internationally recognised standards can also provide all the necessary requirements and guidelines to adopt the most appropriate indicators, such as ESRS (European Sustainability Reporting Standards) and IFRS S1 & S2 (International Financial Reporting Standards).
For example, the IFRS S2 standard and the ESRS E1 standard are both environmentally related and provide some indicators about specifically climate change topics. Both standards will require companies to disclose information about their GHG emissions (scope1, 2 and 3), energy consumption and many other indicators that can impact climate change.
Companies can rely on their internal communication and collaboration especially between the EHS, compliance and financial departments to always keep an eye on evolving indicators, and anticipate regulatory changes. Especially since both sets of standards, IFRS and ESRS, are still in draft versions. Nevertheless, the published disclosure requirements will allow companies to be ready when they decide to adopt the "perfect" ESG strategy.
How to display the dashboards?
The monitoring of KPIs (or KRIs) can be done by relying on dashboards. For starters, the data can be presented in the form of summary tables. Thus, the performance indicators can be correlated with various data, such as the company's Sustainable Development Goals (SDG), the risk and strategic issues as well as the financial and non-financial performance data.
Furthermore, digital tools give the possibility to rely on dynamic dashboards. Hence, data processing is done in an automated way with real-time feed and updates. In addition, all stakeholders can easily access these dashboards.
Dynamic Dashboard
Adopting an ESG strategy alongside the implementation of its indicators is not an easy task. Especially since all the information around ESG, from the collected data to the standards framework (IFRS, ESRS, etc.) is in constant evolution. Therefore, to avoid tedious administrative tasks, where updating and summarising the corresponding and related information, it is essential to rely on a dedicated tool, that will also secure all your data.
A digital dashboard dedicated to ESG criteria allows the management of the global strategy and an automated action plan will allow acting precisely on important and concrete actions. Dynamic dashboards enable efficient analysis of ESG data. The key performance indicators are automatically updated thanks to a real-time data feed, and afterwards, they are represented in your ESG report.
An example of the dynamic dashboard with Bluekango
ESG reporting is the final step. All the collected data from all the ESG criteria along with their corresponding key performance indicators and all the necessary information are disclosed in the ESG report or the non-financial report (including objectives, targets, actions, etc.). The ESG report will make the related activities of companies transparent to the public and all stakeholders. ESG reporting will play an important role to attract more investors and more funding from government bodies.
Key performance indicators must be chosen carefully and wisely in order to guarantee an effective continuous improvement policy and comply with ESG standards. They provide key information for the ESG report. Digital technology will play an important role in the ESG strategy. The management committees and governance bodies can rely on digital to extract and analyse all the necessary data to make the best decisions to steer the company in the right direction.
To go further:
> Discover how you can manage and monitor your KPIs via our Quality Management System app with BlueKanGo's digital platform (available on the BlueMarket)