QHSE digitalization, what is it exactly?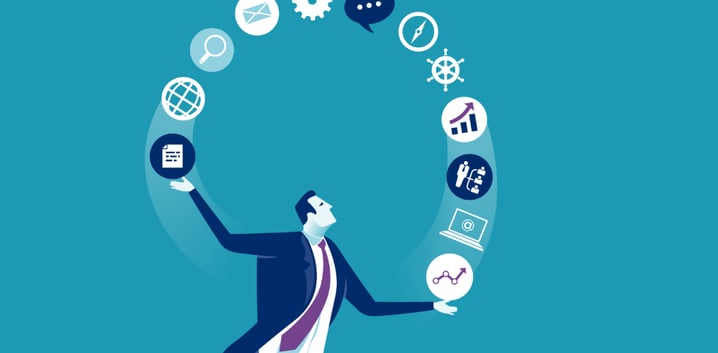 Digital transformation and digitalization are certainly part of the buzzwords of 2018. But more concretely, what about EHSQ services? What are the daily benefits for managers and those working in the field?

Digital transformation of companies is often associated with technology. We will be focusing on that aspect in this article (other points are just as important, such as change management, the importance of the human factor .... which will be discussed later). So the key question here is how are new technologies impacting on the daily work of EHSQ? What are the benefits in the field? And on the managers' side?
Digital transformation, a kind reminder ...

First of all, remember that this transformation started ... last century. We were then talking about computerization with ERP software, HRIS, office tools, EDM, Intranet. Today, talking about digitalization means thinking more globally. Indeed, digitalization affects processes in their entirety. It goes beyond a simple transposition or migration of traditional tools (paper forms, spreadsheets ...) confined to a function or a task.
And this tends to accelerate with the evolution of technologies, their democratization and the emergence of
new uses related to mobility, real-time, possibilities of interfacing and more recently the massive exploitation of "DATA".
On top of everything: a search for performance gain at all levels of the organization. For EHSQ services, innovation is encountered in every area ...
Digitalization Quality, HSE: specific case

Let's take the example of a company... let's call it "Process"; an industrial group of about 500 employees spread over several sites. To maintain its leadership in the market and increase its performance, its leader has chosen to put digitalization at the center of its strategy.
Thierry, EHSQ manager took this opportunity to make innovate happen in his management system. He made the choice of a global solution dedicated in SaaS (accessible online). Thierry sees in this solution a great opportunity to gain agility and performance. For him, this will allow to replace a multitude of tools used by Pierre and Sabine, respectively, Quality manager and EHS manager and avoid seeking the already busy computer service. Let's see the concrete benefits ...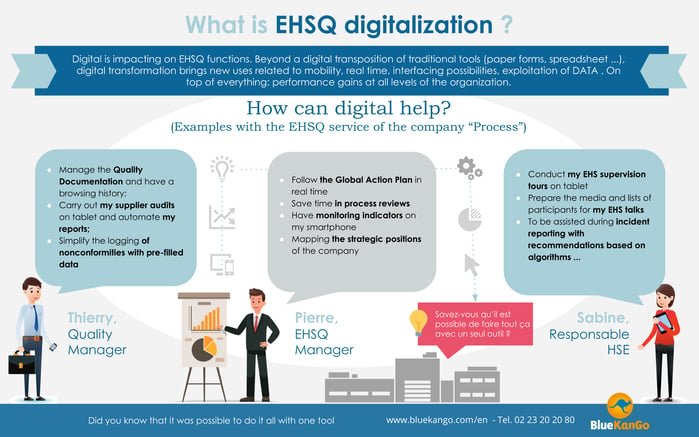 Pierre, Quality Manager

Pierre manages Quality. It had set up a document management on shared servers a few years ago ... then the IT department developed a Quality Intranet. It did not really evolved. When Thierry told him about modernizing his tools, he immediately saw the advantages that an online document management could bring when organizing the validation steps via workflow, have a browsing history. He has also implemented a simple application so that each on-site agent can report a nonconformity ... no more paper forms.
In his daily life, Pierre enjoys carrying out his supplier audits ... on a tablet. His reports are automated and powered by photos taken directly on site and that he can send directly to his interlocutors just as easily on his way back, on the train.
Pierre has even a performance indicator for his suppliers which are immediately updated with each new entry.
Sabine, HSE Manager

Sabine was updating her Single Document on Spreadsheets ... She had to redo the whole thing when her computer crashed. All of which means that she enjoys this online application avoiding the risk of losing data. In addition, it is linked to the overall action plan. It's much simpler.
What she likes best is to manage her EHS talk directly in the solution. She prepares her media that she can relay to the teams and especially she saves time with her lists of signatures made on site with her tablet. The series of talks she organized on PPE has reduced the number of TAs by 5% this year.
Thierry, EHSQ Manager
Thierry can finally follow his global action plan in real time. He follows his key indicators on his smartphone. He is notified in case of a problem. But it was mostly when preparing his process reviews that he saw the difference. He can provide tables of activity to his Managing Director on demand and as soon as needed, and that is appreciable.
Less time to spend behind his spreadsheets, this also means more hindsight and therefore more time to propose improvement actions and help service managers in maintaining their certification for example.

The future is already here ...

Ces exemples fictifs s'inspirent de projets bien réels. La digitalisation peut aller encore plus loin, y compris dans les domaines QHSE. L'exploitation massive de données traitées par des algorithmes permet de l'analyse prédictive sur des accidents ou encore de bénéficier de conseils par un assistant virtuel lors d'une déclaration. Côté maintenance, des machines connectées remontent des données de manière autonome....les technologies sont là et déjà au service des entreprises pour toujours plus de performance. La révolution digitale est en marche...
These fictitious examples are inspired by real projects. Digitalization can go even further, including EHSQ domains. The massive exploitation of data processed by algorithms allows predictive analysis on accidents or to benefit from advice by a virtual assistant during a logging. In terms of maintenance, connected machines are backing up data autonomously .... technologies are there and already at the service of companies for ever more performance. Digital revolution is on the move ...
Find out more at:
Crédit photo : Fotolia.com