ISO 14001: Why implement a digital EMS?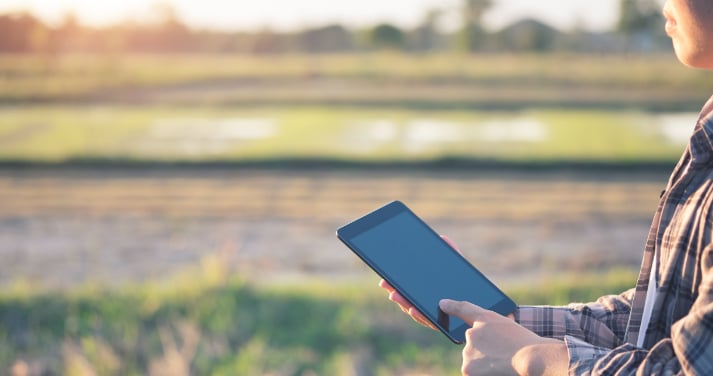 The current global temperature rise is 1.1 degrees Celsius above pre-industrial levels. It is absolutely imperative to reduce greenhouse gas emissions. The climate emergency confronts companies with environmental responsibilities and regulations. Furthermore, customers and partners are increasingly sensitive to companies' commitment to their environmental impact.
Which directives to use and how to meet environmental requirements?
A series of environmental disasters have hit the world in recent years. The climate crisis is accelerating at an unprecedented rate due to rising greenhouse gas emissions that have driven up temperatures.
This article will discuss the role of standards and regulations and the application of digital for a better environmental outcome.
ISO 14001 standard, what does it mean in 2022?
The ISO 14001:2015 version is the current international standard for environmental management systems (EMS). This standard version was last reviewed and confirmed in 2021, so it is the current version as of the publication of this article.
This standard defines the requirements of an EMS and provides guidance for use. It helps organizations achieve the intended results of their environmental management system, which not only bring value to the environment, but also to the organization itself and to stakeholders. Like all ISO management system standards, ISO 14001 includes the need for continuous improvement of an organization's systems and its approach to environmental concerns.
Certification and benefits
ISO 14001 certification is gaining notoriety in terms of environmental management. In 2020, China was the country with the highest number of ISO 14001 certificates in the world with 168,129 valid ISO 14001 certificates, followed by Japan (17,804) and Italy (16,858). Between 2019 and 2020, the ISO survey of certifications reported an increase of around 12% in ISO 14001 certification.
The certification process implies the design and implementation of an environmental management system (EMS) that complies with the requirements of the ISO standard. Organizations must address issues related to the environmental aspects of a company. Then, an auditor from a certification body must carry out a full audit to assess its environmental performance and effectiveness.
There are many reasons why an organization should take a strategic approach to improve its environmental performance through ISO 14001 certification. Here are the most noticeable benefits of having robust environmental management systems:
Legal compliance:

demonstrate compliance with current regulatory requirements

Reduce wastage

of resources and environmental incidents

Improve company reputation

and the confidence of stakeholders

Improve competitive and financial advantage

through improved efficiencies and reduced costs
The principles of the ISO 14001 standard
As of today, the implementation of ISO 14001 is a voluntary process, it is not a legal obligation yet. The basic principles and methodology of ISO 14001 are based on the well-known four-step process of Deming, the Plan-Do-Check-Act (PDCA) cycle:
Plan: set objectives and processes requirement
Before implementing an ISO 14001 system, an initial study or review of the organization's processes in terms of "environmental aspects" is necessary. This study includes both direct products, such as those used in manufacturing and indirect products, such as raw materials. The objective is to identify all the elements of the operation in progress and, if possible, future operations, likely to interact with the environment.
Do: processes implementation
It is at this time that the organization identifies the necessary resources and determines the members of the organization who will lead the implementation and monitoring of the EMS. The organization must establish the various processes and procedures to guarantee better management control over things such as document control, emergency preparedness and response, and employee training. The objective is to ensure that they can competently implement the necessary processes and record the results.
Check: measure and monitor the processes and report results
Environmental performance should be monitored and measured periodically to ensure that the organization's environmental targets and objectives are being met. This step involves implementing and conducting internal audits at planned intervals to ascertain whether the EMS meets the user's expectations.
Act: Define action plans to improve EMS performance based on data
This last step involves a management review that ensures that the objectives of the EMS are achieved, and to what extent they are achieved. In addition, this step also involves regulatory watch in order to formulate recommendations for the continuous improvement of the system.
Digitized Environmental Management System (EMS)
The fourth industrial revolution, also known as industry 4.0 or digital transformation, has completely revamped the way companies plan their processes and measure their performance. It is characterized by the automation of manufacturing and production, but above all, it generates new opportunities for performance optimization.
The fundamental change lies in the way companies and workers are interconnected, to be more productive, and more efficient. Thanks, in particular to a Digitized Environmental Management System (EMS) allowing companies to move from a complicated system with ad hoc tools to a collaborative and intuitive system.

Digitizing their EMS with a Digital Integrated Management System is an opportunity for a Sustainable Development Manager to drastically reduce the time spent on administrative tasks, and to focus on high-value-added tasks.
A digitized EMS is an upgrade that automatically generates a mapping of environmental impacts and aspects and automatically calculates environmental indicators. Evaluations are increasingly effective and more in-depth. It's also a time saver tool during internal environmental audits with predefined online checklists and instant distribution of results to stakeholders. A solution that improves the monitoring of regulatory requirements (online regulatory watch) and actions.
Just as organizations have systems to manage accounting and human resources, it is equally essential that they have an environmental management system (EMS) to manage their environmental performance. The digitization of EMS facilitates continuous improvement and the sustainable management approach, a change consistent with the requirements of constantly changing environmental regulations and a world in full ecological transition.
Go further
> Discover th application about