Industry 4.0: an industrial revolution driven by digital technology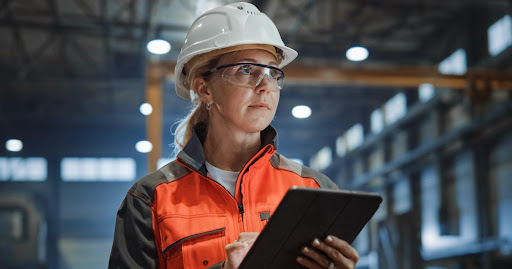 Competition, shrinking market, environmental impacts, pandemic… industries are facing more and more challenges. If they want to survive and sustain their activities, organizations need to make some changes and open up to new tools. This change is called industry 4.0 and it is one of the main drivers of this industrial revolution.
What is the so-called Industry 4.0? How do we actually implement it?
We are now in the fourth industrial revolution, also called industry 4.0, the digital transformation of manufacturing and related industries. A revolution characterized by increasing automation and the use of smart machines and smart factories. The era of data mining, where manufacturers can improve decision-making and better respond to customer demands through mass customization.
The breaking point of traditional industry
Confronted with the new challenges of the 21st century, the industry as we know it is reaching its limits. Now, customers are looking for values of transparency, societal and environmental commitment, quality of life at work, and trust in the quality of products sold on the market.
Traduire avec la voix
Pervasive in our daily lives, new technologies simplify communication, and monitoring activities, and ensure the versatility and adaptability of production chains. We also saw it during the health crisis, some large groups mobilized and adapted their activities accordingly. A Renault factory, the car manufacturer, had at that time developed around twenty prototypes of protective visors printed in 3D. Such responsiveness is only possible with the adaptability of teams and well-established digital processes.
Team versatility is, therefore, a business priority and can only be achieved by simplifying and automating processes. Digital is then totally adapted to this evolution, the latter constituting a guarantee of adaptability and operational performance.
The progressive evolution of practices
Digital is gradually becoming part of the habits of a large number of companies: Electronic Document Management (EDM), co-working platforms, automated provisional planning, regulatory watch, statistical tools... Tools are being developed to simplify the daily life of operational staff and provide management teams with real-time visibility on processes in order to quickly guide political decisions.
In the industrial sector, for example, the rise of 3D printers has already proven itself. This technology enables organizations to just print out a series of parts or "exceptional" parts, 3D printing is a real revolution in the quality of finished products. At the end of the day, weight gain and increased solidity due to the fact that certain welds and assemblies could be avoided. Production can then become "on-demand", as recommended by Lean Management to avoid the risks of waste and unnecessary storage.
In the construction sector, again 3D printing is developing to facilitate the construction of buildings, parts of bridges, or street furniture. In 2019, a robotic construction company built the world's largest 3D printed building, a two-storey office in Dubai for the city's municipality. At 9.5 meters tall, it is claimed to be the tallest 3D-printed building ever built.
Also in the field of construction, the rise of BIM (Building Information Modeling) ensures the quality of construction sites, respecting deadlines, the smooth running of activities and the environment by planning in advance the needs and risks inherent in the construction site.
Finally, in the automotive sector, digital technology simplifies processes by saving time on fault-finding thanks to the integration of electronics. Computers make it possible to identify faults in the engine in just a few seconds.
Digital, the new normal
The digital transition of organizations is gaining ground over the years, and little by little new practices are emerging.
On a daily basis, industry 4.0 offers the assurance for operational staff of quick access to technical data (procedures, Safety Data Sheets (MSDS), order form, etc.), for middle management, to reduce administrative procedures and be closer to its employees in the field and for the management board, to obtain in real-time all the statistical data necessary for strategic decision-making.
Like 3D printers, which have the ability to adapt to any customer need, digital tools such as those offered by BlueKanGo adapt to the organization of the company, regardless of its size or sector of activity. Both solutions have the particularity of being able to deal effectively with product obsolescence, such as spare parts for 3D printers or software updates for BlueKanGo, where version changes become essential over time.
Also, a collaboration between the Information Systems Department (ISD) and all departments is essential. The relationship between IT (Information Technology) and business processes is a differentiating and value-creating factor in the implementation of Industry 4.0 principles. More than just support, ISD supports employees through the technological changes made in the company.
Industrial upgrading programs are taking place gradually thanks to the transition to digital to gain versatility and competitiveness. Examples are multiplying in the field, to the benefit of business performance and responsiveness. Other technologies such as Virtual Reality are also interesting tools for the industry (quality control, training, etc.)
Go further
> Available on BueKanGo's Marketplace Digital Integrated Management System